Fiesta Garibaldi
Saturday April 27, 2019
11:00 AM – 11:00 PM
Casino Del Sol Resort
AVA Ampitheater
5655 W Valencia Rd
Tucson, AZ 85757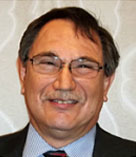 Mario Aguilar
Garibaldi Coordinator
(520) 838-3913
Email
Fiesta Garibaldi
"Hear the vibrant blast of trumpets, the strumming of guitars, and the harmonic blend of voices in song … continue walking and smell the aroma of food being prepared on an outdoor grill. Listen as the sound of laughing children mixes with the rhythmic blend of music and dance on a wooden stage. Turn the corner and you've entered the world of … mariachis, dancers, children, and people from all walks of life come together in a unique blend of cultural interaction and education … you have the opportunity to listen to and to see the best mariachi groups in the world; to watch the swirling of brightly colored dresses and hear the sharp clap
of heels against stage floors…1″ These were the words used for an advertisement for the 2000 TIMC Fiesta Garibaldi. Words that continue to resonate today, to describe the event thousands of people enjoy. Join us for the all-day festivities of art, culture and food. Fiesta Garibaldi is a traditional re-creation of the sights and sounds of the Garibaldi Plaza in Mexico City. The festival is an all-day event from 11 in the morning until 11 in the evening. With live mariachi music and baile Folklórico acts on two venues (indoor and outdoor stages).
Come and Join Us
1. Rodríguez, Gregory S. The History of the Tucson International Mariachi Conference. Tucson: The University of Arizona Mexican American Studies & Research Center, 2000.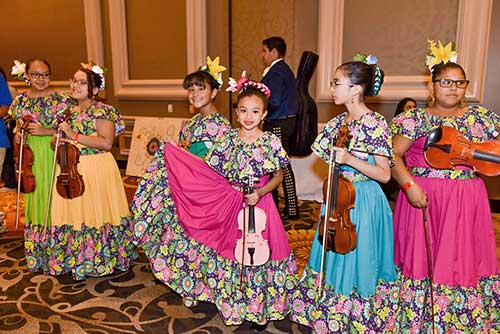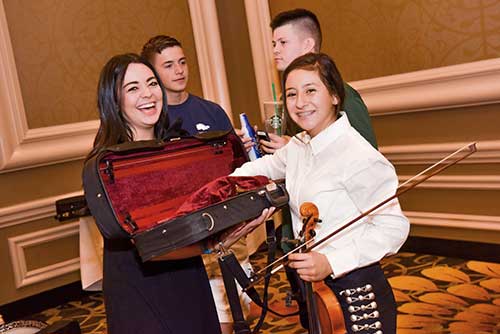 Experience the Garibaldi Food Vendors!
If you plan to attend Fiesta Garibaldi, which is an 11 hour event, you are going to get Hungry! The food vendors offer many choices for your enjoyment. Hot Dogs (Sonoran style) to burritos, carne asada, tacos and much more. Also refreshing drinks from sodas to aguas frescas, lemonade and snow cones are available. Do not miss out on Los Changuitos Feos de Tucson Taco Booth. The Changos tacos are now famous and a tradition at Fiesta Garibaldi. Just try walking by the food vendors booths and smelling the aromas of fresh food being prepared all day long. Get there early before you miss out! For the last two years the food vendors have been selling out of their product. Thank you!
Come Join the Party – Ticket Information Here
Come join us in this wonderful celebration of music, dance and culture. Bring your family and spend the day playing in the pool and listening to Mariachi music in the background. See the many items that the artisan vendors have to sell like jewelry, dresses, southwestern crafts, leather goods and much more. Come join us and take away memories of good times, people, music and food!
Casino Del Sol Resort
AVA Amphitheater
$10 per person
Purchase Tickets on-site at the Door!